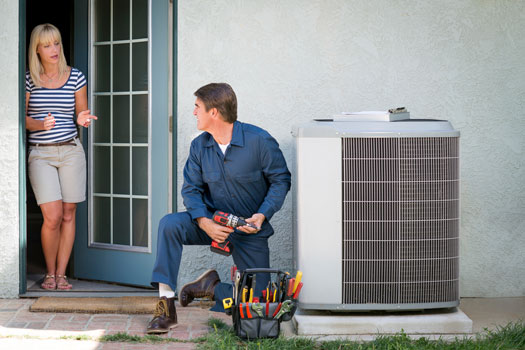 When your AC or heat goes out, we're here to help. Our professional technicians will provide you with an honest diagnosis of the problem and a fair quote before performing the needed repairs.
We service a variety of systems and equipment, such as:
HVAC Systems
Gas furnaces & air conditioners
Electric water heaters
Attic exhaust systems
Duct work
Air cleaners
Exhaust fans
Humidifiers
Ductless split systems
and more…
What to Expect with AMR
Schedule an appointment
Contact us to schedule a date and time frame for our technician to come to your home.
You'll receive a call/email that we're on our way
We know life doesn't stop for equipment repairs. We'll do our very best to be on time.
We diagnose the problem
We always quote a diagnostic fee of $125 for our technician to come and run diagnostics.
You'll receive a quote for repair
Our technician will explain what the issue is and give you solutions and costs for the repairs.
We make the repairs
Our technician will make the repairs you agree upon. We guarantee our repair diagnosis, meaning if your system should stop working within 60 days of the repair, we'll make it right and you will not be charged another diagnostic fee.
$125 Diagnostic Fee
A diagnosis is a flat rate service used to determine why your heating, cooling or ventilation system is not working properly.
2-year Warranty on Repairs
We stand by our work. If a repair fails within two years, we will make it right, and you will not be charged for the replacement part or labor.
Before you call for a repair, there are some common quick fixes that you can try on your own.
Check the following:
Make sure your thermostat is set for the mode you want. Your thermostat has 3 modes of operation. "Heat", "Cool" and "Off".
Once you have the correct mode selected, adjust the temperature set-point to the temperature you want the house to be.
Check the air filter. If it's been a long time since the filter was changed, it may be clogged.
If you have an AC & Furnace type system, then you have an Emergency Switch that turns off power to the AC & Heat. Look for a wall switch with a red plate. Sometimes there is not a red plate and it looks like any other light switch in the house, and therefore it is inadvertently turned off!
If you still need service, please call 495-6676 to schedule an appointment.